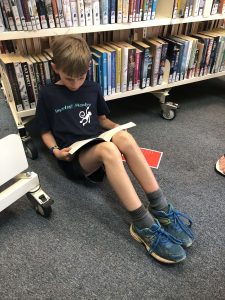 As the country seems to be literally burning, the year comes to an end. It's easy to say the world has been a garbage fire for much of this year, but it's not all like that. I've done plenty, my family has done plenty and there is much more to be done in the next year. (Who knows, I might even blog more!)
Not as much travel this year as last year, just a couple of trips to Sydney and Nelson Bay twice, first in January for our usual thing, then in July for one last hurrah (where despite it being "winter", it was really quite pleasant). But the family place there has been sold now, really quite quickly, and that's gone. If we want anymore beachside holidays, we'll have to work out something else.
The first half of the year was dominated by writing, but the second half was dominated first by some work, but then by other projects, community involvement and more. Haven't done much more writing at all unfortunately, but honestly my total for the first half of the year beat the previous few years, so I can't really be unhappy with that.
Mid year and much of the later period was dominated by a big work project — building a free wi-fi network for the Warrumbungle Shire. Happy I got it, happy I did it and happy with it working now, but there were more than a few hiccups along the way. Happy to be over them now and they weren't technical problems, but at least it's done now! There's hopefully a big thing coming in 2020 that involves council again; what can I say, they're a big source of employment in this area.
My writing continues as it always will, mostly more thinking and planning recently, but I want to put a big edit in on the current work before putting it in with a few places. And I admit it, I have far less an idea of how to best edit and revise a work than I do to just write a draft. But you just have to do it anyway, right?
And I launched a book! Well, a book that I had a story in — Dark Sky Dreamings. My story "Dark Sky Dreaming" which I swear didn't come from the book title, is an imagining of my son's space-bound future, is an achievement I'm so proud of. Link to buy.
The best times are always with my sons, and there's been plenty of that… you only need to look at my Facebook feed for so much of that. I should really post more here…
And what I have liked this year. I like my eclectic tastes… some of it mainstream, a lot of it not really (well not mainstream in Australia anyway). Some of my favourites:
— Netflix land… so many things, my chief source of new stories to enjoy. Everything from Stranger Things 3 to Jessica Jones to The Umbrella Academy.
— Animation in general — adult animation is in such a renaissance time, from Bojack Horseman to Cannon Busters, to Final Space to Disenchantment.
— And in more "all ages" animation, I just love Miraculous Tales of Ladybug and Cat Noir — this perfect concoction of American superhero stories with Japanese animation styling, wrapped up in this perfect and original French storytelling and characters. It's just not a mix you could have imagined a few years ago, but now it's going strong and I love how they keep expanding the world with each season and subverting their own storytelling styles (a recent episode involved a creator of the show turning into a comicbook villain!) Other animation in this area I've loved includes Three Below — a wonderfully diverse piece of sci-fi from Guillermo del Toro with such a great voice cast and such a fun style (and again, on Netflix).
Out here we never get to see quite as much movies at the movies, but we always make the effort for the latest Marvel movie. They outdid themselves this year with Avengers: End Game and also with Captain Marvel and Spider-man Far From Home. But I also like to see more than just Marvel, and did manage to catch Tarantino's latest Once Upon a Time in Hollywood this year. A truly unique and occasionally bizarre piece of filmmaking that went so many ways you would never expect.
And enjoying Star Wars more than ever — with Disney Plus and The Mandalorian in the last two months of the year, and seeing The Rise of Skywalker just today, the last day of the year. A wonderfully entertaining and emotionally satisfying end to the newest trilogy.
There will much more Star Wars for us in Coonabarabran next year — look out for https://www.darkskyawakensfestival.com.au in 2020!
That's all for me now I think, minutes away from midnight only, and three of boys still up. Quite a surprise… but bring on 2020 🙂