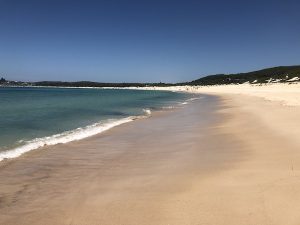 So you know I really have had a pretty decent year. Some really good things happened — like going to Canberra twice as part of the Hardcopy 2018 program, to a family trip to Bathurst where we went to the National Motor Racing Museum among other things, to watching Alex graduate primary school and win a wonderful award (and find out at nearly the same time that Will has won a scholarship for next year!) to helping Lachie start his YouTube channel! So many good things. I mean, a number of not so good things too, continuing frustrations, continuing issues and things that just threw up roadblocks for us as a family.
And I really should write more about some of those highlights. Let's see about that…
But that pic above? That's Fingal Bay, yesterday as it happens, walking with Lachie around to the spit for the first time in years. We've been here since Christmas Day and we will be here for a few days into New Year. Always fun times 🙂
So how about 2019? Many things will be good just going on as they have. But other things need to get better, either through application, circumstance or chance. Need to write more, need to read more, need some more avenues in business to open up. That's mostly about hard work, the right kind of work, but it can happen. The business stuff less so — we work hard enough as it is so we need the right kinds of opportunities. That stuff might never change, so we need to make our own opportunities too.
But that's all to come. We can relax for another week before we're back on the job, enjoy more scenes like what you see above, and the rest will work. Happy New Year and may we all make 2019 a good one 🙂
(And yes, blog more here than post to damn Facebook and Twitter — get the order of priority right!)