A Happy Easter here, but also a quiet one. Just time at home really, basically the entire weekend. Close by relatives not too well so no visit, so just family and fun here. Easter Sunday, AKA Chocolate day, was particularly appealing for the boys: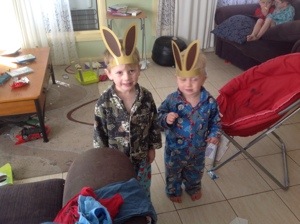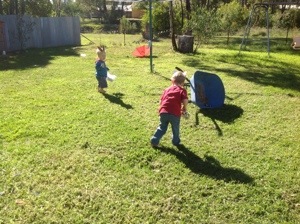 I watched a few things — the music documentary "Sound City" — aka "Dave Grohl plays with his idols", which was seriously good fun and some seriously good music. I almost wanted to disagree with its digital vs analog premise, but what it had to say about creativity was worthy.
Enjoyed the new Jack Irish movie on ABC — we watched it on iView on a week long holdover because I wasn't here last week and our ABC reception is terrible. A nice study on how to construct an interesting and classy crime story.
Waiting to see what will happen with my Walkley thing. Was down in Sydney last week, following Twitter would have shown you that 🙂 I think it went pretty well so I will see where that goes.
But the writing… it's always in my head but it's an interesting process getting it on to paper…