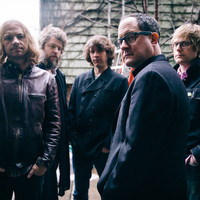 I don't care what anyone else thinks, I don't care if it's cool, not cool or somewhere in between, but The Hold Steady are my favourite band and they have been for quite a few years now.
And after a four year hiatus, they're back with a new song!
Love it already — instantly recognisable as them, but something a little different, actually a little more rock, which would have seemed unlikely. Wonderful and layered lyrics, which is really the thing I expect and want, and great crunching guitars and overall sound.
The new album "Teeth Dreams" comes out on March 25 — and it's eagerly awaited!