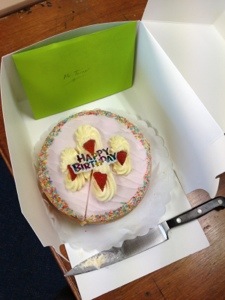 Went to bed too late, woke up too late, but hey, today is my birthday 🙂
Not a lot said about it at home… due to our usual morning insanity, and I rolled up to work at the end of assembly… to discover I had missed a general announcement to the whole school!
That's okay, because when I came into the media publishing class I received a round of "Happy Birthday", a card, a cake… you get the idea 🙂 I then had an impromptu Happy Birthday 2 from a year 11 class nearby… and well I'd expect more but I don't know what!
This is very nice, and even slightly overwhelming… not what I expected at all. I've been feeling a little under-appreciated at work recently — not from a single teacher or student that I work closely with, that's for sure — but from the department, the overall hierarchy of my workplace. The whole media and political debate surrounding my work (DER and technology in schools) and my potential future work (teaching) is so negative and so downtrodden at the moment that it's not hard to find it depressing at times. (That and I'm not sleeping enough, I know!)
But then I get mornings like today and everything just feels right 🙂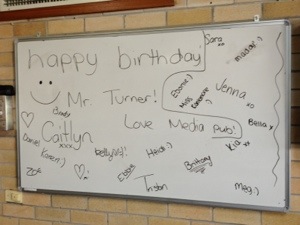 The whiteboard before the end of period 1!