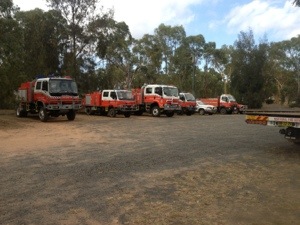 I have a post on iPad music apps I keep wanting to finish, not to mention that TAFE assignment, but right now all I can think about is the fire situation at home.
Fires have been around Coonabarabran since Sunday, and while things should be okay for the town (where I am) it's far from okay for many people around the town, and it continues to be a tense situation all round. School has become a staging area for the fireys, and there are constant and helicopters buzzing around town, their noise like a warzone, a constant reminder of what is happening.
Like I said, it looks okay in town, but I'm going to Sydney tomorrow for a work thing (Google Apps summit, which I'll post more about when I'm there). And I've heard today they expect conditions for the fire to get worse… on Thursday and Friday, exactly when I'll be in Sydney. With winds that just have a small chance of blowing back towards town.
I admit, the chance of this has got to be quite small, but it's distinctly real, and I can't help but worry that something will happen and I won't be home to do anything about it. I'll be leaving Sallie and three of the boys here, just taking Will to Sydney with me. It should be fine, I know, but it's not hard to think about it. Will look at conditions in the morning, and not leave until lunchtime at least.
Of course, anything I'm worried about pales into insignificance compared to the people out on Timor and Baradine Roads, who have already suffered too much. Those who have lost their homes, and those who got through it unscathed but would have had a terrifying time anyway. No one should have to face that, and it was a horrible, random thing. So thank everything that we have so many hundreds of fire workers here helping to fight the blaze, and just as many locals backing them up with food, shelter and whatever help they can give. Coonabarabran is a great town, with a great fighting spirit and a great sense of community.