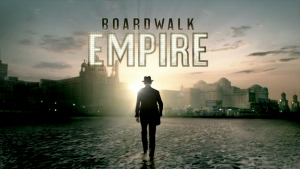 A few weeks behind on this one, but been catching up on things we couldn't watch while away in Sydney all through November until mid-December. But what a finale it was!
Boardwalk Empire this season had been interesting, but in a slowly paced, occasionally meandering kind of way. Character drama and one or two moments of action, but that was it. That's fine, but then the last two episodes changed everything.
Nucky Thompson (Steve Buscemi) is isolated, and has all his allies abandon him in the face of the batshit insane Gyp Rosetti (Bobby Cannavale) and Joe Masseria. But thanks to a solidified alliance with Chalky White (Michael K Williams — finally this hopefully means we'll see him on the show a lot more!) he's at least alive. Then out of nowhere, Eli brings Al Capone and crew back from Chicago, and it's world war three in Atlantic City!
Some crazy, but no doubt believable gang warfare ensues, and an enormous amount happens in two short episodes. Things do end with Nucky back on top, but a lot changes in a short time. Really the preferable way to do things!