For the uninitiated, that's "Bring Your Own Device". A quick explanation of Will's circumstance — lots of identified medical problems, including what can loosely be described as "motor dyspraxia", that is, a severe problem with fine motor skills. Handwriting has always been very difficult for him, even though expression has not. We decided this year as he moves into year 3 he needed to move to a computer solution to improve his writing and expression (instead of only caring about the quality of his handwriting, in a mechanical sense). The school agrees with us, and here is what he's going with for this year: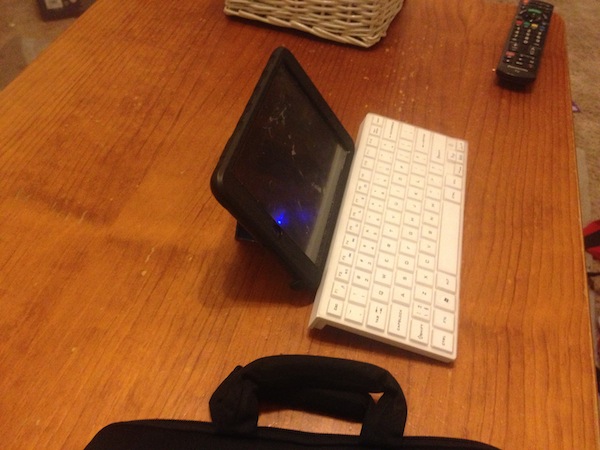 That's an iPad Mini — something we chose for him based on his interests and our experience. There's no secret he has a lot of fun with it and has been playing games and watching videos over the Summer since he got it at Christmas, but it's also a very viable learning tool, using apps from Pages to all the math/English tools out there. As it happens, this is a 64GB wi-fi model ($578) but a 16GB model would be sufficient if you're thinking about it $358). Included with it is a simple but effective Bluetooth keyboard that I bought at the local Woolworths (cost only $23). Look closely and you'll see a homemade cardboard stand propping it up (easy and easily replaceable, cost nothing). The iPad is protected by a Gecko case we bought at the same time — very rugged and heavy duty — for $66. So that's (if you sub a 16GB iPad) $447 for hardware, and I'll estimate roughly $50 on apps (the school ones anyway), so let's say $500 total. He actually had a lot more in iTunes cards when factoring in various gifts, but a lot of that went on fun stuff!
Will's needs had to include the keyboard, as it is intended to take over as his main writing work tool. So you probably figure that $500 is the same as a netbook would cost, right? Maybe so, but this covers his interests for work and play, home and school and everything inbetween. It literally does everything he wants to do at all times. In too many cases I think that other kids would have a computer for school, then a Gameboy/DS/iPad/etc for fun stuff, and the totals would be a lot more. It's not mandatory of course, but I think it works well for us, and most importantly, for Will.
Now, I know around $500 is not cheap — it is of course a large amount for a lot of people. But we're not overtly rich, but we save and we prioritise. We get various government family payments, and we use those as required, but we also save as required. I admit I would like to see the educational payment thing deliberately funnelled into technology for students, but that's just my view and I don't expect most to agree or care.
There seems to be a definite move from all government sides and most people to devalue and deny the importance of technology in school and education. Funding is cut: seems as if almost nobody cares. Are we looking for a future in which those who care go to the "right" schools, those who care find the money, and those who care make do, while those who don't care just let it slide? I hope not.
I know that Will is going to be happy using his equipment. To some extent I know that the school is only okay with this because of his particular needs, but I hope attitudes change to allow more students to do this. I'd like to hear more BYOD solutions and ideas from other people, and I will always be around on Twitter discussing things like this (see Twitter box at right).