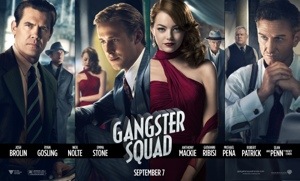 Went out to see Gangster Squad tonight. I'd thought the name was kind of off putting beforehand, but it suits the movie well. It's a 1940s gangster movie, with some basis in reality (but loads of fiction as well) that is quite entertaining, but also very deliberately old fashioned.
I'm finding a lot of post ww1 and ww2 movies interesting right now, this theme of "damaged war veterans" being so violent, and it was in this one again, from the heroes as much as the villains. They did insane things, but for good reasons. Wonder if they're saying something about the US now?
Anyway, it wasn't too deep, and it was surprisingly funny at times. Great, often insane action at times, and some excellent set pieces. A really good cast too, from Brolin and Gosling as the lead cops, to Penn hamming it up in every scene as Mickey Cohen.