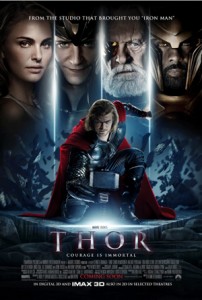 Watched Thor with my sons yesterday afternoon — had not seen it yet. Great fun movie, some excellent scenes and really great actors over the various roles. It makes our viewing of the extended Marvel film universe almost up to date (we haven't seen any of the recent Hulk movies, but with the successful change to Mark Ruffalo in The Avengers, I'm not sure whether the Ed Norton version will stand up).
It brings a few things to mind — about shared universes and the way the comic book methodology has completely taken over blockbuster filmmaking (and I mean that in a good way!) Comic books have always been about shared universes (as have some other fields, science fiction novels especially) but now movies are taking that to the ultimate extreme. And Marvel appears to be doing it the best of anyone.
There are several things I like about this — not just the sheer enjoyment of it. Marvel (and well, Disney now) are keeping it manageable, and clear to even the most casual fans. This is one of the things I've always found off-putting about Marvel Comics, the fact that they were always so dense with history and character backstories and endless plots and subplots that you just could never keep up. Even now, with a reboot called Marvel Now! late last year, they've already overdone it (after reading for several pages about the new titles I just gave up!) But the movies keep it clear — 2-3 times a year with your favourite heroes and you can have it all. That works.
The other thing is the creative clarity. Some of you are no doubt saying that it's all one big micromanaged corporate monolith now, but I don't believe that's true. Marvel is getting the best filmmakers who also love the material, and giving them mostly free reign to create these stories as they want. Joss Whedon described Marvel's process as only setting down about a half dozen major plot points he had to cover, and how he did it was up to him. No doubt Jon Favreau and Kenneth Brannagh has it the same. These are excellent and creative filmmakers, who no doubt have an affinity for the material, being allowed to make movies how they want them. That's probably the biggest reason these stories are working, and resonating.
So Iron Man 3 is out in April, and Thor 2 in November (that's it for this year, I think). I'll be there, as will my sons 🙂