A special night tonight… it's Sallie's birthday and we arranged things so the kids could be looked after for a few hours. For the first time in months we have an evening to ourselves. Couldn't exactly be too extravagent, so we went up to the Westpoint entertainment level for dinner and a movie.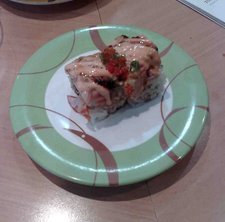 We had some seriously appealing sushi from the "Sushi Train" place, picking up a whole variety of dishes, while Sallie played the "is it fish?" game. It was easier than most places and we had a great meal for a good price. It's funny how little plates can fill you up very quickly…
Naturally, I even snapped a pic of my favourite sushi roll… not even sure what was in it… think it was fish, and it had a really nice sauce and some kind of caviar thing… nice…
We went to see Couples Retreat, the latest Vince Vaughan movie, which I'm happy to say was definitely one of his better ones… it's an entertaining, extremely well cast fun little movie… that the two of us fell perfectly into the demographics for.
I admit it, Couples Retreat is a movie specifically made for early to mid 30s couples with young children and it worked great on us. Take four couples in various situations, put them together in a pretty place they really didn't want to be, then watch them work through their marriages with great amusement. Add some hot ladies, a gratuitous Guitar Hero duel, and some very funnny supporting actors, and you have some good fun and a movie worth getting out to… especially if you're that perfectly aimed demographic that doesn't get out much 🙂
Great cast… Vince Vaughn can be good when he tries, and especially when he's with John Favreau, who is great too. Jason Bateman is getting lots of good roles now… but it's the ladies that rule for me 🙂
Malin Ackerman is gorgeous, and shows some great comic timing in a role very different from her recent turn in Watchman. Kristin Davis was by far my favourite Sex and the City star and even before that, and she's fun in this. Of course, my true favourite is Kristin "Veronica Mars" Bell, who stands out in this as a somewhat troubled younger wife who isn't sure her marriage will last not having kids.
So, it's definitely a good bit of fun, and best enjoyed with your nearest loved one. Three and a half stars.